from Bravewords.com:
Vocalist SARAH JEZEBEL DEVA has checked in with the following update:
"We can proudly announce that our guest vocalist for the track 'This Is My Curse' is the talented Mr. Filth from CRADLE OF FILTH. I have to admit, he worked his arse off for this song and it shows. It was honestly a real pleasure singing together again. Remember, Malediction is a digital only three track EP and is being released in May via our amazing record company Listenable Records. We really hope we can count on your support to purchase this EP. A video for this song will also follow."
As previously reported, SOILWORK frontman Björn "Speed" Strid is also a guest on Malediction, singing a duet with Sarah on 'Lies Define Us'.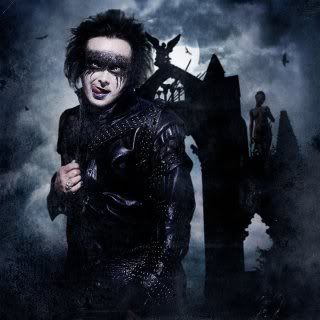 Sarah's UK tour schedule in support of the Malediction EP is now as follows:
May 16 - Birmingham - The End 17 - Manchester - Dry Bar 18 - Liverpool - The Lomax 19 - Leeds - The Cockpit 20 - Grimsby - Yardbirds 23 - Cardiff - Bogiez 24 - Bristol - Tunnels 25 - Andover - George 26 - Swindon - The Furnace 27 - London - Nambucca

The tracklist for Sarah's latest solo album, The Corruption Of Mercy, is as follows:
'No Paragon Of Virtue' 'The World Won't Hold Your Hand' 'A Matter Of Convenience' 'Silence Please' 'Zombie' 'Pretty With Effects' 'What Lies Before You' 'Sirens' 'The Eyes That Lie' 'The Corruption Of Mercy'
Check out Sarah's official website here for updates.
As previously reported, Cradle Of Filth will release their latest work, Midnight In The Labyrinth, on Record Store Day - April 21st - in participating countries, with a general release across other countries, as a strictly limited edition two-disc set of delectable magic, with disc one containing narrated nightmares courtesy of Dani Filth, plus additional vocals from Sarah Jezebel Deva, whilst disc two contains purely orchestral and symphonic recordings. The cover art can be seen below:
Taking the most requested tracks from the first four official releases, Cradle Of Filth have fulfilled audience desire by creating an album based on their most popular older tracks, but one that is delivered orchestrally to create a rich, haunting sonic landscape in the vein of soundtrack composers such as JERRY GOLDSMITH, DANNY ELFMAN and HANS ZIMMER.
Ten songs make up this 78 minute meisterwerk (including the addition of a thirteen minute exclusive aural séance on CD1), indulging such COF classics as 'Funeral In Carpathia', 'The Twisted Nails Of Faith' and 'Summer Dying Fast', which has already been showcased on last year's Evermore Darkly EP to a more than rapturous audience response.